By Matt O'Bryant
What's up guys and gals,
Wet Hot American Summer is back! For anyone who stumbled across this gem of a comedy in the past 14 years knows how freaking insanely hilarious it is and if you have never seen Wet Hot American Summer go buy it, rent, it, stream it, download, whatever you have to do you will not be disappointed!
Wet Hot American Summer was a sleeper hit when it debuted back in 2001 and has amassed an amazing cult following since!
It starred some of the biggest names in Hollywood then and now like Paul Rudd, Elizabeth Banks Bradley Cooper, Molly Shannon, Amy Poehlar, and Janeane Garofalo. Some how they managed to get the entire cast back, which is usually considered an impossible feat once a decade or more has passed and so many of the actors careers have changed dramatically since the films release.
The Mini-series debuting on Netflix in July is going to be called Wet Hot American Summer: First day of camp and will be a prequel series following the entire original cast around playing younger versions of themselves even though they are all a 14 years older than when they originally played the roles.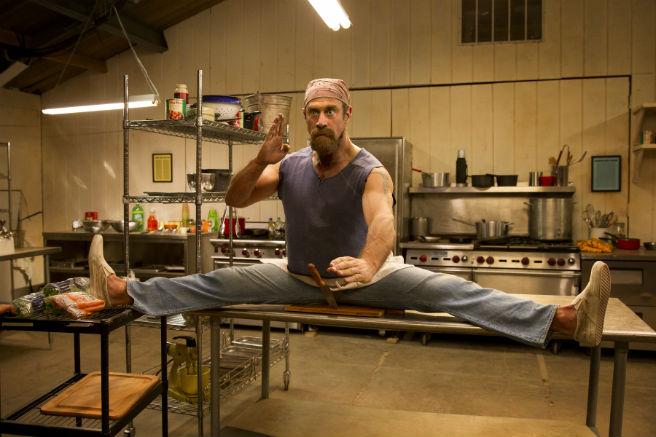 Check out the teaser trailer below:
Original Cast Pic From Wet Hot American Summer in 2001 Below: No Ageing Required!
Cast:
Elizabeth Banks, Michael Ian Black, Bradley Cooper, Judah Friedlander, Janeane Garofalo, Joe Lo Truglio, Ken Marino, Christopher Meloni, Marguerite Moreau, Zak Orth, Amy Poehler, David Hyde Pierce, Paul Rudd, Molly Shannon, and Michael Showalter
Wet Hot American Summer: First Day of Camp Debuts on Netflix on July 31st, 2015
LIKE, SHARE, AND FOLLOW US ON FACEBOOK @EASTCOASTMOVIEGUYS